CoachSelling for recruiting (Wells Fargo)

The Client:
Wells Fargo's Private Client Services (PCS) is one of the largest and best run financial services companies in the country. Since merging with Norwest Bank, the division has grown substantially throughout their 26 state foot print.
Challenge:
In order to sustain and compete at a national level, Wells Fargo PCS must continually hire qualified financial consultants at a rate far exceeding any search firm resources at a price that makes it worthwhile. Instead of hiring an outside firm to accomplish this daunting and ongoing task, Wells Fargo decided to assign each of its 170 Regional Sales Managers (RSM) the task of hiring within their regions. Knowing this would be only one of the many tasks assigned to this critical position, senior managers understood a comprehensive system would be required, one specifically designed to meet the need, and one that could be delivered quickly.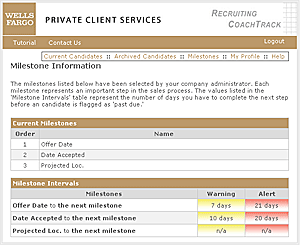 Solution:
Media Net Link had already developed CoachSelling, a suite of web-based tools for streamlining sales activities. Wells Fargo was already using the CoachSelling suite for pipeline management and sales coaching in parts of their business. Because CoachSelling was built to be flexible and easily configurable, we saw an opportunity to use it to help RSMs manage their recruiting opportunities as well.
Working directly with a dedicated staff, we were able to quickly bring Wells Fargo personnel up to speed on the flexibility of configuration inherent in the tool. We gave the team access to the CoachSelling development site, which afforded them the opportunity to try out different configurations and shop around their concepts to future users. The internal managers were tentative at first, knowing that in the past any requests for special features would elicit the dreaded "must be customized" phrase from software vendors. However, they were soon won over. In a very short time they had built a system to address their specific recruiting needs.
Result:
The results were not only immediate but far beyond their original expectations. "We now have a tool that monitors every candidate as they go through the hiring process, but we can quickly see what firms are most attractive, what level of recruits we are prospecting and in addition we can judge how long it will take to bring in different levels of candidates." – David Zimmerman, Wells Fargo
Because the configuration was intuitive and self-explanatory, Wells Fargo never requested any training. RSMs signed on, uploaded their existing leads and were on their way. Today, a senior manager can log on and instantly see how many candidates are in the system bank-wide, where they are in the hiring process, who is assigned to them, and the likelihood they will be hired in the near future. In fact, the metrics engaged are full of detail but devoid of cumbersome and time consuming data entry requirements. As one RSM put it, "It takes me less than a minute to update a record. All the information is easy to add and review."
Wells Fargo quickly added an additional version for recruiting Private Bankers and will soon add one for Trust Officers. Each queue can be set up quickly; senior managers have immediate access to real time data, giving them the information they need to make decisions and meet their goals.